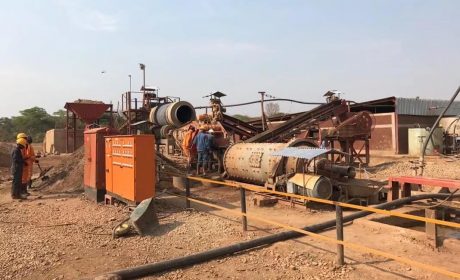 Generally speaking, copper ore can be divided into three categories: copper oxide ore(azurite, cuprite and malachite), copper sulfide ore (chalcopyrite, bornite and chalcocite) and natural copper.
JXSC Mine Machinery Factory provide various copper ore beneficiation process & mining equipment.
copper beneficiation process
Even for the same type of copper ore, it is necessary to design the most appropriate process according to local conditions. Copper ore beneficiation is a process to extract copper from raw ores. Commonly used copper ore beneficiation process include gravity separation, flotation process, and magnetic separation.
Gravity separation: The gravity separation method sorts minerals according to their relative density (usually called specific gravity). Currently, gravity separation is only used to select copper ores with coarser inlays, and is especially suitable for copper oxide ores with higher density.
Flotation separation: Copper flotation process is based on the difference in the physical and chemical properties of the mineral surface, processed by the flotation agent, and the mineral is selectively attached to the bubbles to achieve the purpose of separation. The beneficiation of non-ferrous metal ores, such as copper sulfide ore, lead, zinc, sulfur, molybdenum, etc. is mainly treated by flotation process; some ferrous metals, rare metals, and some non-metallic ores, such as graphite ore, apatite, etc. are also used for the copper flotation process.
Magnetic separation: The magnetic separation method is based on the different magnetic properties of minerals. Different minerals are subjected to different forces in the magnetic field of the magnetic separator, so as to be sorted. It is mainly used for separating ferrous metal ores (iron, manganese, chromium).
1. Copper flotation process
JXSC provides copper flotation process plant, the process flow is Crushing — Screening — Grinding — Concentration.
Jaw crusher
Ball mill
Spiral classifier
Flotation machine
Mixing tank
Thickener
Filtering machine
1. Crushing: Adopts two-stage open-circuit crushing and selects jaw crusher for crushing, and the crushed product is transported to fine jaw crusher for two-stage crushing.
2. Grinding: Afterward, the pendulum feeder is transported to the ball mill for grinding and classification, and combined with the classifier, the material reaches below 200 mesh.
3. Flotation separation: After stirring, the pulp enters the flotation machine, and the collector with good selectivity is added for flotation to obtain qualified copper concentrate.
4. Filter & dewatering: The copper concentrate pulp obtained by flotation is transported to a high-efficiency thickener for concentration. Finally, the concentrated bottom flow is filtered and dehydrated by a filtering machine to obtain a qualified concentrate.
This setup is a complete set rock copper processing plant, including crushing, grinding, grading, sieving, separation, drying and other processes. Below is copper mining equipment:
feeding hopper

chute feeder

primary jaw crusher

secondary jaw crusher

impact crusher

ball mill

spiral chute

plate filter press

thickener for tailings
1. Crushing & grinding:The chute feeder is for feeding raw material to primary jaw crusher more stable and smoothly. Primary jaw crusher is for crushing big stone to a smaller size, secondary jaw crusher is for crushing rock to below 30mm, impact fine crusher is for a crush to below 10mm, so as can increase the ball mill's grinding effect with smaller model saving energy and cost.
2. Gravity separation:The ball mill is for grinding 0-10mm material to 200mesh working together with cyclone. Then 200mesh slurry will be pumped to two stages spiral chute for primary separation, all heavy mineral concentrate ore from spiral chute will go to shaking table to concentrate again, so as to reach high-grade copper concentrate.
3. Tailings processing: After getting the copper concentrate ore from the shaking table, concentrate ore will be pumped into a thickener to make suitable density concentrate, then go to plate filter press to filter water and get dry copper concentrate At the same time, all the tailing material will go to a cone thickener to make suitable density, then go to a plate filter press to recycle the water to use.
This designed plant is high recovery rate and effect for recovery oxide type rock copper and many other types minerals, such as rock chrome ore, rock manganese ore, rock zinc lead, etc. The plant design can be adjustable according to material conditions and requirements.
Professional Mineral Beneficiation Equipment, Solutions & Services
Talk with JXSC's mining experts to get more help, free to conslution!
Please fill out the contact form below to get the quotation price and engineer help.
We will response your request within 24 hours.
Notice:
We do not provide jobs, nor do we interested in investment or partnerships.
We provide equipment and mineral processing solution, we don't buy and sell mineral ores.

We value your privacy and keep your information safe.