100TPH Alluvial Tin Ore Gravity Separation Plant In Nigeria
We guarantee the high quality machine in the mineral processing industry, established in 38 years of experience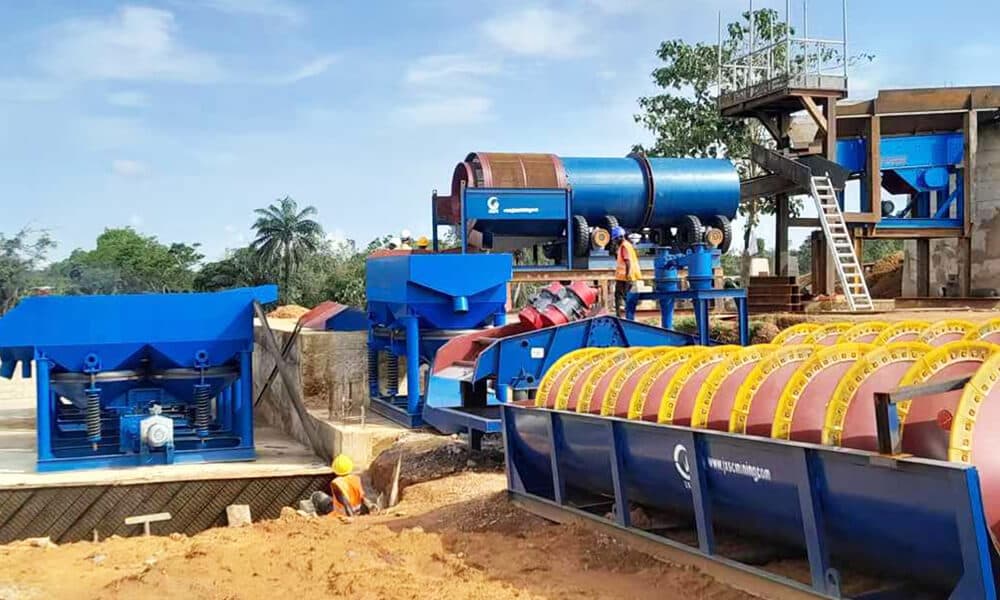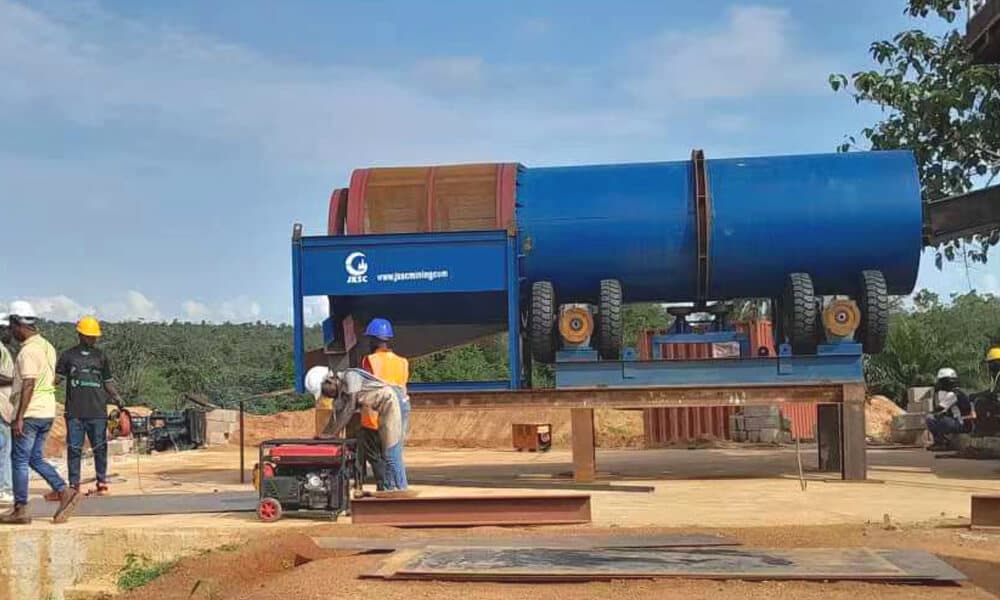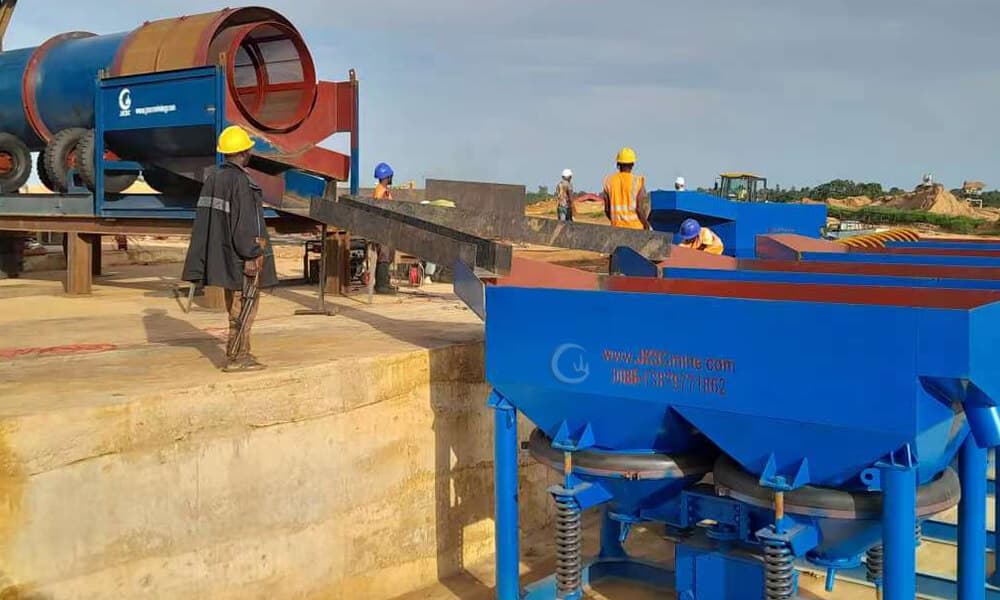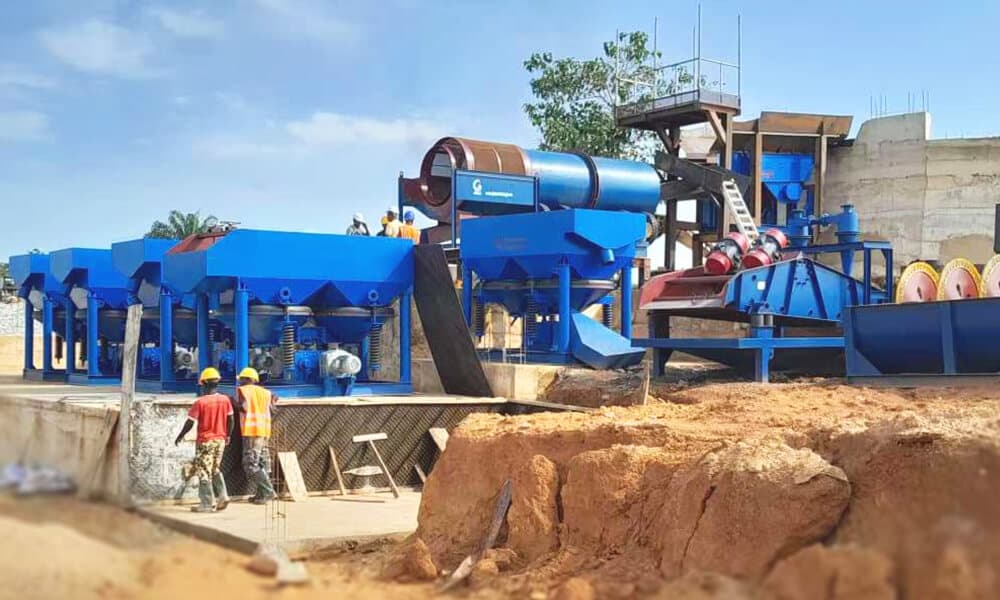 1. Raw ore: alluvial tin ore
2. Capacity: 100TPH
3. Feed size: +70mm
4. Location: Nigeria
Feeding – Washing – Gravity separation – Classification – Dewatering – Sun dried – Magnetic separation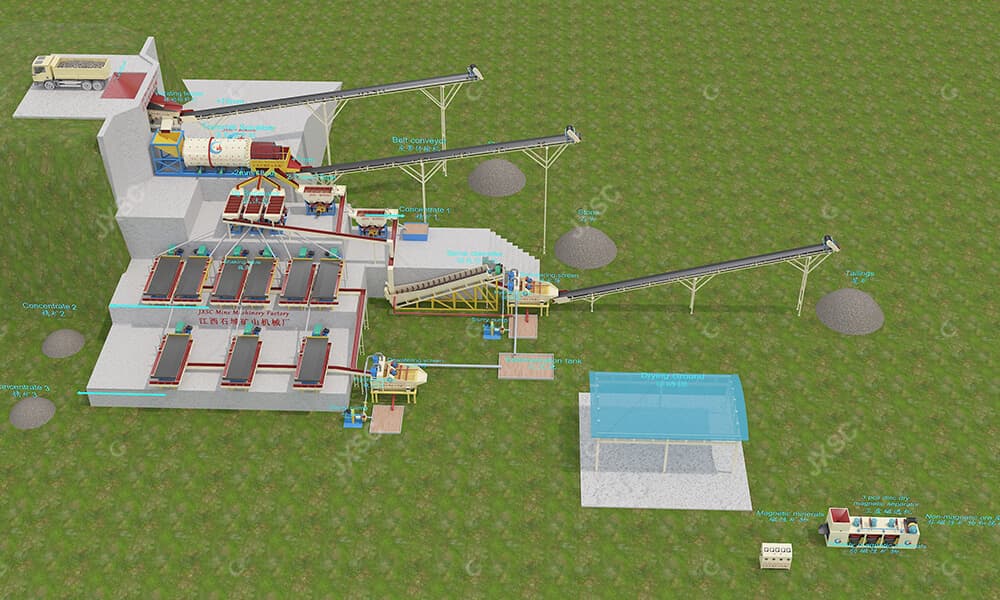 1. Feeding, Washing: vibrating feeder, trommel scrubber
Vibration feeder with 70mm grille bars, more than 70mm materials are transported to one side, and materials smaller than 70mm are evenly fed to the drum washing machine, which efficiently removes surface sediment or impurities and effectively separates valuable tin ore from waste. .
2. Gravity separation: jig separators, shaking tales
After being cleaned and screened by the drum washing machine, the +7mm material is transported to the side by a belt conveyor, and the -7mm material enters the jig. Among them, 2-7mm materials enter two 2-2 jig separators for sorting, and the concentrate can be directly obtained and entered into the slurry pool.
Materials smaller than 2mm enter the 4-2 jig separators, and the concentrate enters the distribution barrel. It enters the two-stage shaking table for sorting evenly, and the concentrate grade is higher.
3. Classification, dewatering: spiral classifier, dewatering screen
The spiral classifier helps eliminate environmental pollution caused by low slurry concentration; the dewatering screen not only improves the recovery efficiency, but also minimizes water consumption through its excellent dehydration capability. The spiral classifier and dewatering screen perform double dehydration of the tailings slurry, which can better control the particle size distribution and moisture content in the tailings. Eventually, the dry tailings are transported aside.
Shaking table tailings dehydration
After sorting by the shaking table, the tailings enter the dewatering screen and the sedimentation tank.
4. Drying, Magnetic separation: three disc magnetic separator
The gravity-separated concentrate is dried in a drying shed, and magnetically separated minerals, weakly magnetic minerals, non-magnetic minerals and tin concentrate are finally separated by a 3-disc magnetic separator.
JXSC supplies complete tin ore processing plants, often using a combination of gravity separation and magnetic separation;  we also support customized equipment, process design, training, installation and other services. You can contact us (professional engineers) online for answers and get quotes!
Please fill out the information below for the quotation price and engineer's help. We will reply asap!
Notice:
We do not provide jobs and have no interest in investment or partnerships.
We provide equipment and mineral processing solutions; not buy and sell mineral /ore /materials.

We value your privacy and keep your information safe.