3TPH Copper Ore Gravity Separation Plant In Tanzania
We guarantee the high quality machine in the mineral processing industry, established in 35 years of experience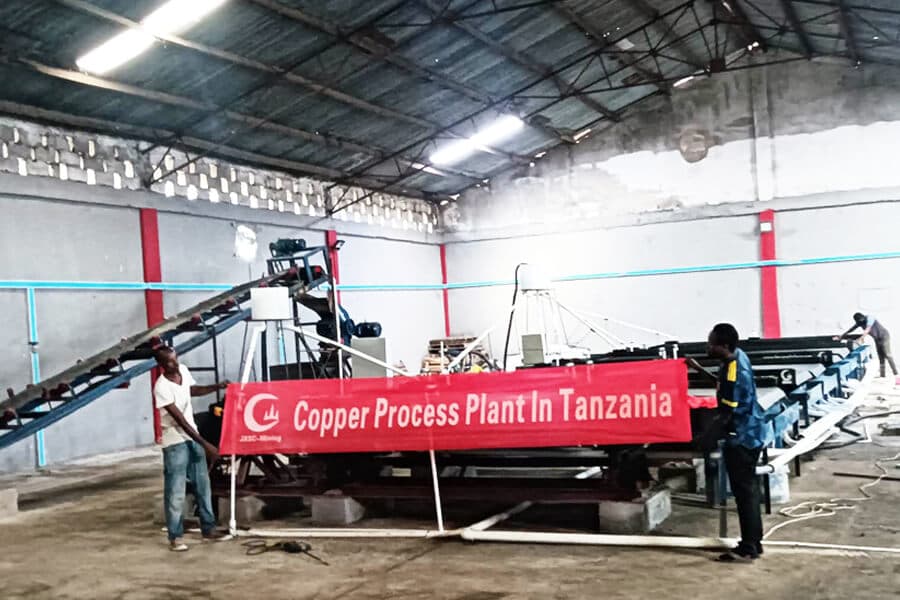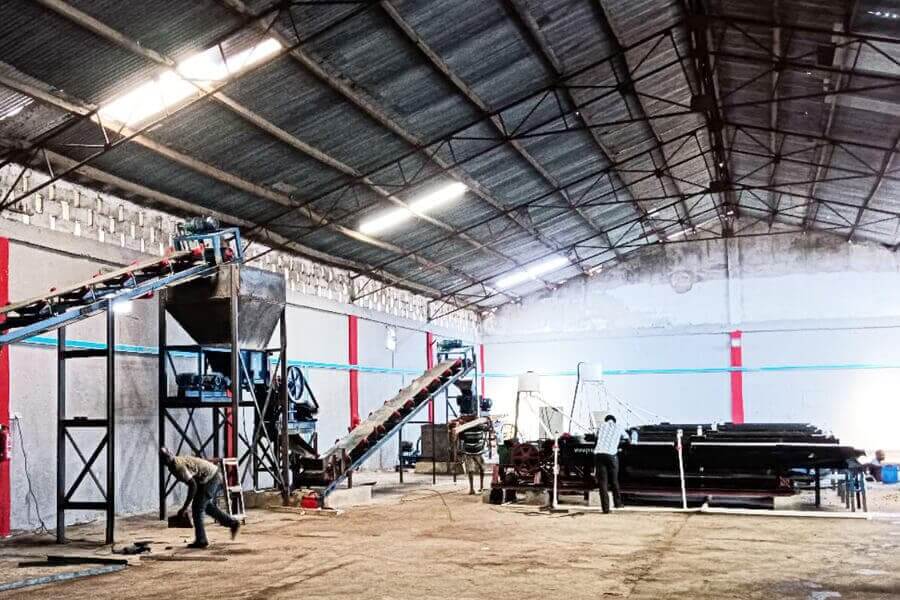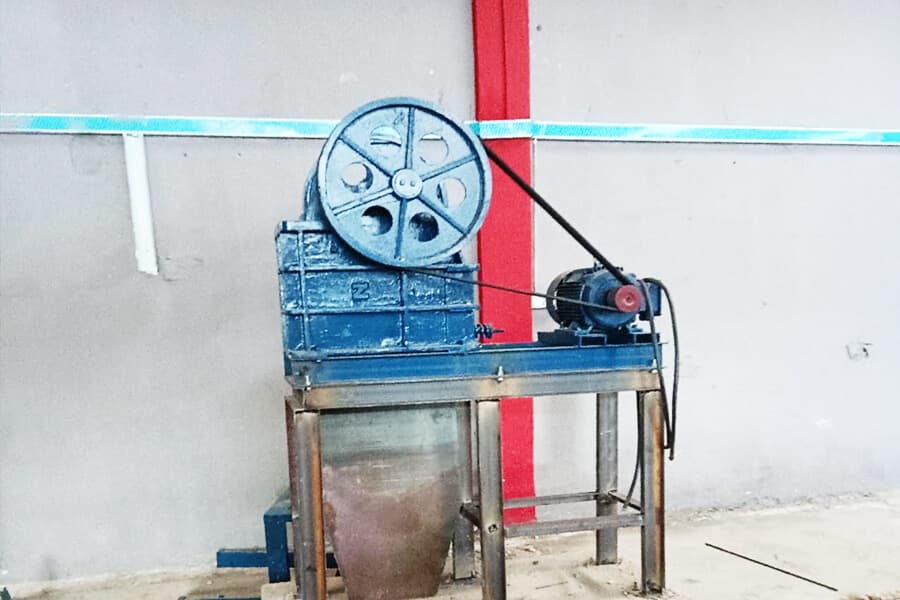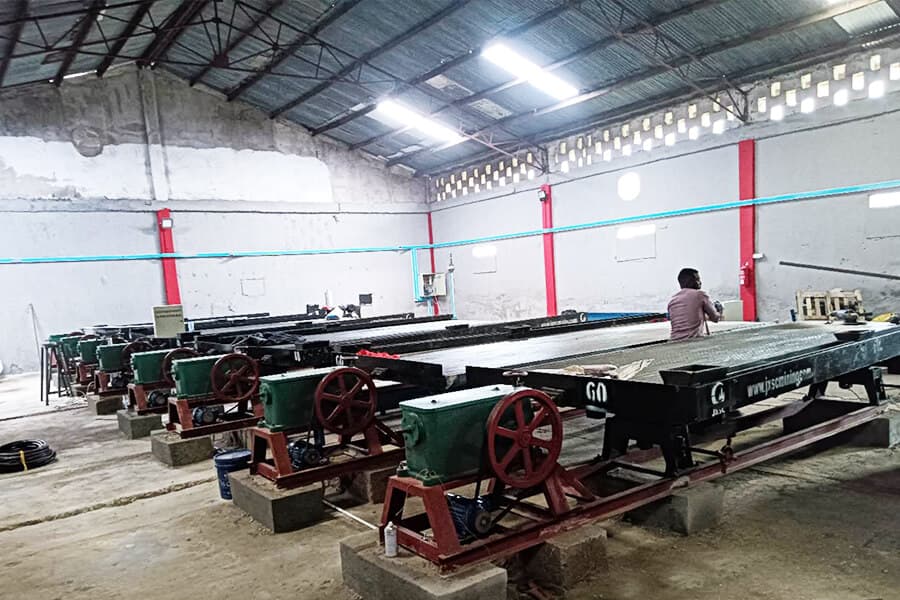 1. Raw ore: copper ore
2. Capacity: 3TPH
3. Location: Tanzania
Feeding – Crushing – Gravity Separation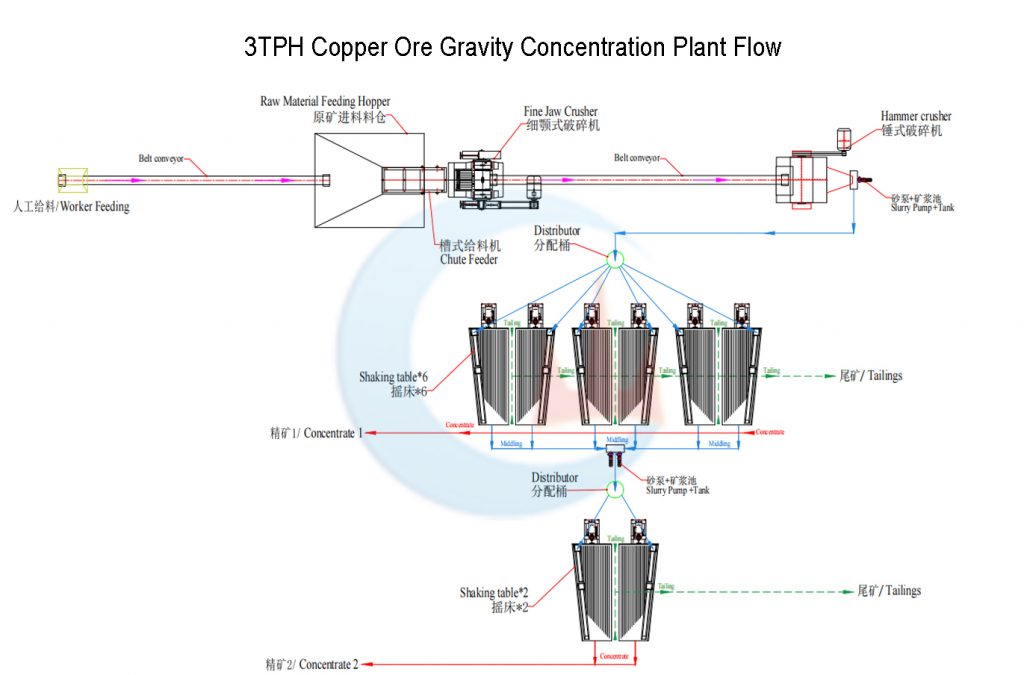 1. Crushing: Jaw crusher, Hammer crusher
The copper ore is fed manually and sent to the feeding bin through the conveyor belt. The larger ore blocks are evenly sent to the jaw crusher through the chute feeder and crushed into smaller sizes. Then enter the hammer crusher for fine crushing so that the subsequent gravity separation process can be carried out. The finely crushed copper ore is collected into the slurry tank and then sent into the distribution barrel by sand pump for uniform mixing.
2. Gravity separation: 6-S small channel steel shaking tables
The ore pulp is sent to the shaking table for roughing. Through shaking and water flow, the minerals of different densities are stratified. It is divided into two stages of shaking table, which can further extract and separate copper minerals to obtain high-grade copper concentrate. Eventually, the higher-grade material (ore concentrate) will concentrate on one side of the shaking tables and forming a relatively pure copper ore concentration zone. Lighter impurities are discharged to the other side to form tailings.
This copper gravity separation process uses a two-stage shaker to obtain higher-grade copper concentrate and properly treat the tailings to ensure the efficiency and environmental protection of the beneficiation process.The copper grade can be increased by 6-7% by gravity enrichment. The method has low mineral processing cost and remarkable separation effect. The actual process may vary due to different ore properties, please contact us to customize the process and equipment.
Please fill out the information below for the quotation price and engineer's help. We will reply asap!
Notice:
We do not provide jobs and no interest in investment or partnerships.
We provide equipment and mineral processing solutions; don't buy and sell mineral /ore /materials.

We value your privacy and keep your information safe.