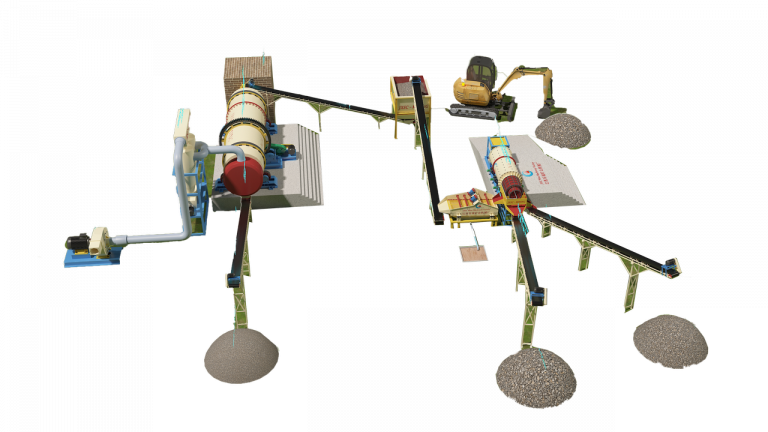 The coal preparation plant (CPP) is a facility that washes coal of soil and rock, crushes it into graded-sized chunks (sorting), stockpiles grades preparing it for transport to market.
1. Screening & Crushing
The mixed materials with different particle sizes are divided into various particle poles by the screen surface with holes, and the coal lumps are sieved by dry or wet sieving. To pulverize large pieces of material into small particles, the selected coal pieces need to be pulverized to a certain particle size.
2. Coal washing
Coal washing is an indispensable process of coal deep processing. The coal directly mined from the mine is called raw coal. The raw coal is mixed with many impurities in the mining process, and the coal quality is also different. The coal with small internal ash content and large internal ash content are mixed together. Coal washing is an industrial process to eliminate impurities in raw coal or classify high-quality coal and low-quality coal.
3. Coal preparation
Using the different physical and chemical properties of coal and other substances, the impurities mixed in the raw coal are treated mechanically in the coal preparation plant, and the treated clean coal is divided into products of different qualities and specifications.
Coal preparation plants usually use jigging and flotation.
Dense medium coal separation is generally used for extremely difficult coal separation, coal with a large amount of gangue in lump coal, and more sophisticated coal types.
For the rare coal containing more pyrite, the final coal can be selected by shaking table. In small coal preparation plants, slot selection can be used for non-coking coal that is easy to select, and air separation can also be considered under certain conditions.
4. Tailings dewatering: If it is thermal coal, the sorting has already met the requirements. At this time, the washed clean coal can be dehydrated into the coal storage bunker, and then the produced wastewater is concentrated and precipitated by thickener, and the coal slime may enter The tail coal bunker may also be stacked in the open air, and the clean water can be used for circulating water.
Coal Processing Plant
1. Crushing: The large pieces of coal are sent to the jaw crusher by the vibrating feeder for rough crushing, and the coarsely crushed materials are transported by the conveyor to the impact crusher. The impact crusher is suitable for medium or fine crushing in order to further dissociate clean coal.
2. Screening: The vibrating screen screens out three kinds of materials with different particle sizes, which are transported to three different jiggers by belt conveyors for separation.
3. Separation: less than 12mm, 12-35mm, 35-45mm, respectively enter the jig for separating.
① The process flow is single, the equipment operation and maintenance are simple, and the screening capacity is large;
② There is no coal type limitation on the coal preparation accuracy. Whether it is difficult coal preparation, easy coal preparation, or medium optional coal, the coal preparation accuracy meets the requirements.
Coal Washing Plant
Raw material conditions:
1. Coal, contain with clay
2. Feeding size 0-150mm
1. Excavator or loader feed raw materials to the hopper of trommel scrubber, here trommel scrubber with 2 layers screen at the end. After washing off clay, screen three outputs: above 50mm,20-50mm, and below 20mm. Above 50mm and 20-50mm, outputs are transported to another place by belt conveyors.
2. Below 20mm go to the dewatering screen by gravity flow. Here put the dewatering screen lower level than the trommel scrubber, so that 0-20mm slurry can flow to the dewatering screen by height difference.
3. Over screen materials of dewatering screen are sent to rotary dryer system for drying coal by feeding conveyor.
4. The finished product after drying is transported by discharging conveyor.
Highlights of this coal wash processing plant
Trommel Scrubber screening and separating coal ores, and get 3 different sizes output.
Using Rotary Dryer to get dry coal products
Professional Mineral Beneficiation Equipment, Solutions & Services
Talk with JXSC's mining experts to get more help, free to conslution!
JXSC Mine Machinery Factory is a mining equipment manufacturer established in 1985, supplies an extensive range of quality mining machinery that is exported and used worldwide. We offer coal processing plant with competitive price and excellent service, free flow design.
Jigging coal preparation: In a vertically pulsating medium, the process of coal preparation according to the difference in particle density is called jigging coal preparation. Water or air is the medium for jig coal preparation, and suspension can also be used. In coal preparation, hydraulic jigging is usually the main method.
Flotation separation: Flotation is mainly used to separate coal slime. According to the different physical and chemical properties of coal and impurities, after a certain drug treatment, selective adhesion can be produced on the two-phase interface.
Dense medium coal preparation: In order to separate the clean coal and the rubble, an aqueous solution with a higher specific gravity is used, which is called a heavy medium. The main feature of the heavy medium is that the specific gravity is greater than that of clean coal but less than that of gangue and other impurities, so the clean coal floats and the gangue sinks in the heavy medium, thereby realizing separation.
Please fill out the contact form below to get the quotation price and engineer help.
We will response your request within 24 hours.
Notice:
We do not provide jobs, nor do we interested in investment or partnerships.
We provide equipment and mineral processing solution, we don't buy and sell mineral ores.

We value your privacy and keep your information safe.