Due to its unique properties, feldspar is a widely used mineral in the glass and ceramic industries. However, not all feldspar deposits are of high quality. Therefore, effective beneficiation processes are required to improve its purity and suitability for various applications. Aplite is a fine-grained, light-colored rock rich in feldspar commonly found in granite formations. You can separate and extract valuable minerals from fine crystals through mineral processing technology, thereby increasing their economic value.
One of the main challenges in beneficiating fine-crystalline feldspar ores is the high proportion of impurities present in the raw material. These impurities, such as iron oxide and mica, can negatively affect the quality of the final product. These impurities are selectively removed or reduced to overcome the obstacle through crushing-grinding-screening-magnetic separation-flotation.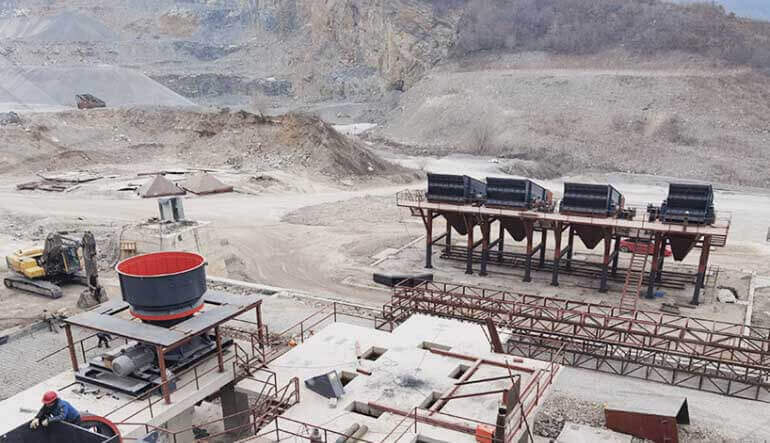 1. Fine crystal rock feldspar ore crushing process
The fine aplite feldspar ore crushing process is a critical step in obtaining high-quality feldspar for various applications. Several factors must be considered during this process to ensure the best results. First, choosing a suitable rock crusher is crucial. Jaw crushers or impact crushers can effectively break large feldspar ore into smaller pieces ready for further processing.
Next, adjusting the speed and pressure the crusher applies is essential to achieve optimal particle size reduction. This allows for better control over the size distribution of the final product and facilitates subsequent separation processes.
2. Fine crystal rock feldspar ore grinding process
It mainly involves grinding equipment to crush and grind raw materials into fine powder. Different types of mills are used to achieve a uniform particle size distribution, including ball mills, rod mills, and autogenous mills. Each type of grinder has its advantages and disadvantages, and selecting the right grinder for a specific application requires careful consideration of factors such as feed size, desired product size, and energy efficiency. Usually, it also forms a closed-circuit ring grinding with the spiral classifier, which is highly efficient. This process requires careful monitoring and control to ensure the final product meets the specifications.
3. Fine crystal rock feldspar ore magnetic separation process
The magnetic separation process removes impurities and unwanted elements, producing purer feldspar. The power of magnets is used to separate magnetic materials from non-magnetic materials, producing high-quality concentrate.
4. Fine crystal rock feldspar ore Flotation
Fine crystal rock feldspar ores are known for their complex mineral composition and intergenic properties, which make it challenging to extract the desired product efficiently. Flotation is used to separate valuable minerals from ores. It involves a combination of reagent optimization and improved flotation conditions to increase selectivity and recovery. By carefully adjusting parameters such as pH, collector dosage, foaming agent concentration and slurry density, the researchers successfully improved the efficiency of separating different feldspar minerals from gangue elements.
The fine crystal rock feldspar ore beneficiation process is vital in extracting valuable minerals from raw ore. This process involves several stages, including crushing, grinding, magnetic separation, flotation, etc. Magnetic separation removes iron-containing minerals from the ore, while froth flotation helps separate feldspar particles based on surface characteristics. JXSC can custom mineral processing plants, equipment and maximize mineral recovery rate.