It is reported that the current annual national lithium metal consumption has exceeded 5 million tons, and has maintained an average annual growth rate of 20%. As an energy storage device, the lithium battery made of lithium metal has been widely used in the vigorous development of electric vehicles, aerospace, mobile phones and other industries. Not only the price of lithium ore has risen, but also the price of lithium carbonate has remained high. And lithium ore can not only be used in lithium batteries, but also in ceramics, metallurgy, porcelain extraction, special glass, chemical industry, etc. The application is also developing rapidly and expanding day by day. Lithium ore is an important raw material for human beings to solve long-term energy supply. Lithium resources are uniquely endowed, with a high proportion in the world, sitting on great resources, and a large market gap. The demand for lithium ore extraction process and equipment is soaring, among which the crushing and grinding process can be described as having great development prospects!
Global lithium deposits are divided into three types, namely salt lake brine lithium deposits, pegmatite lithium deposits and sedimentary lithium deposits. Pegmatite lithium deposits and sedimentary lithium deposits belong to the solid lithium deposits in the distribution types. As far as the development of the three lithium ore resources is concerned, the development and utilization rate of the salt lake brine-type lithium ore is high, and it plays an important role in the production of lithium compounds.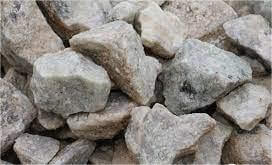 At present, the commonly used technological process of lithium ore beneficiation is crushing-grinding-flotation. The general process of the lithium ore concentrator is that after the lithium ore is broken into small pieces, it is then crushed and ground into finer particles by a lithium ore ball mill. Then use gravity separation, flotation, magnetic separation and other combined processes for separation.
Among them, the lithium ore extraction has a lithium ore grinding process. Lithium resources can be effectively extracted in the beneficiation process only after the lithium ore is ground to achieve monomer cleavage.
After conducting particle size sieve analysis on lithium concentrate, we found that the distribution of lithium decreases with the particle size. The grade of lithium is also gradually decreasing. This characteristic of lithium ore leads to stricter grinding requirements. When beneficiating lithium ore ball mills, it is required not only to grind to a particle size that can be dissociated, but also to avoid waste of resources caused by over-grinding. Appropriate grinding fineness is crucial to the subsequent flotation effect. Generally, the particle size of lithium ore needs to be ground to 200 mesh to obtain better flotation separation effect. And it can better ensure the uniformity of mixing in the downstream production process.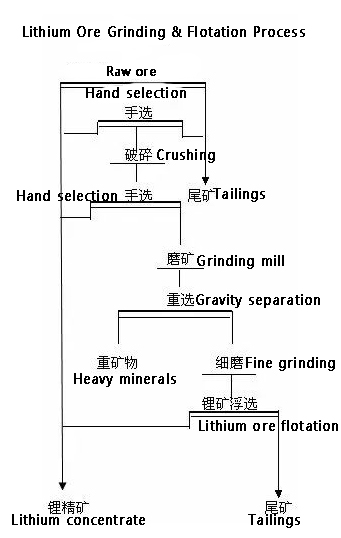 The grinding and grading stage of lithium ore is to ensure that lithium minerals are fully dissociated from gangue mineral monomers. Therefore, lithium ore extraction is inseparable from ore grinding, and the common equipment for lithium ore grinding is ball mill. One-stage closed-circuit grinding and grading process can be adopted, and the one-stage grinding equipment can adopt wet grid type ball mill, rod mill, etc. When secondary grinding is required, a wet overflow ball mill can be selected as the grinding equipment for this stage.
The advantage of the grid type ball mill is that the ore discharge speed is fast, it can reduce the over-crushing of ore, and at the same time it can increase the output per unit volume.
1. Large row of ore mouth design, stronger processing capacity for lithium ore, up to 160t/h;
2. Equipped with an automatic control system PLC, reducing labor costs, real-time transmission of equipment operating conditions, troubleshooting at the first time, and product performance reaching the international advanced level;
3. Static and dynamic pressure bearing, stable and reliable operation;
4. Oil mist lubrication device to ensure reliable lubrication of large and small gears;
Grid type ball mill is mainly responsible for the grinding of coarser minerals in ore beneficiation plants, and is mostly used in one-stage grinding operations. Due to its special ore discharge plate design, the ball mill has large ore discharge particle size and less grinding phenomenon.
According to the properties of lithium ore, the suitable grid ball mill liner is customized to ensure the wear resistance of the equipment and prolong the service life of the ball mill.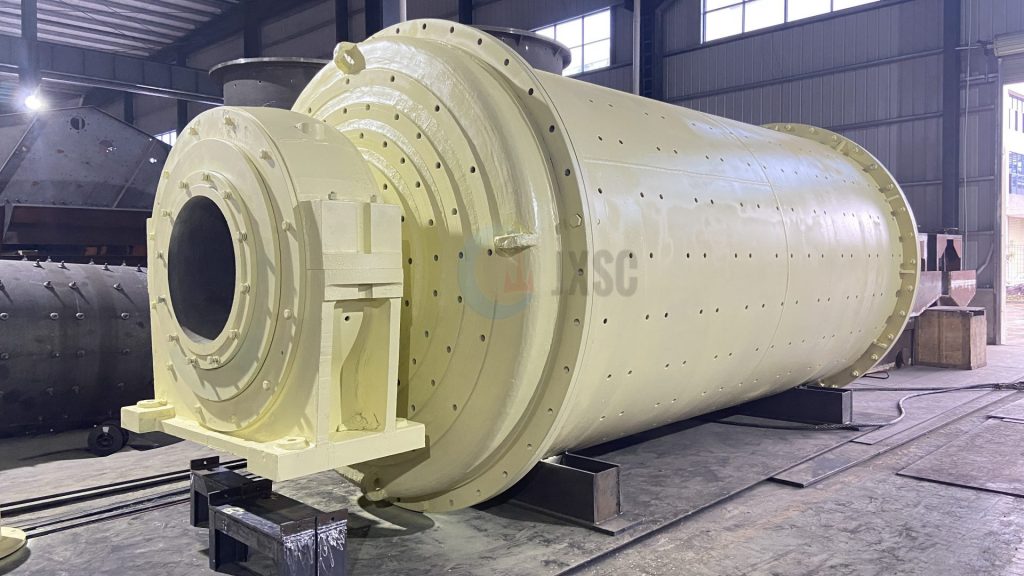 This ball mill is different from the grid type ball mill in that there is no grid plate design at the ore discharge area. When discharging ore, it mainly relies on continuously fed ore pulp to displace the ground pulp, so that it gradually moves to the ore discharge section. When the ore pulp exceeds the overflow weir, the ore pulp is discharged.
The overflow type ball mill is mainly suitable for the grinding of finer minerals in the lithium ore beneficiation plant, and is mostly used in the second stage or concentrate grinding operations.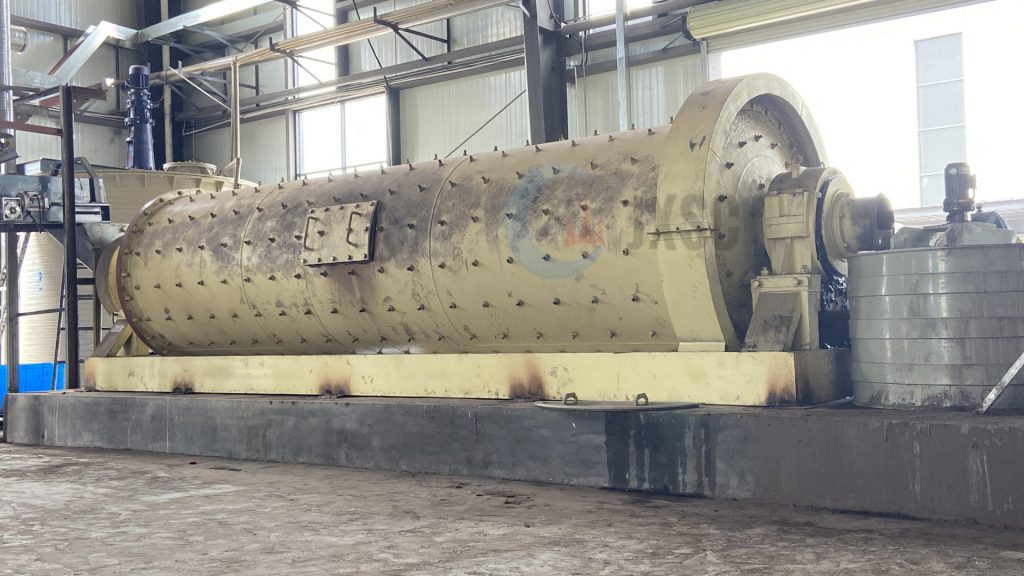 How to Choice Lithium Ore Ball Mill
1. Select according to the nature of the grinding material
The properties of lithium ore materials have a great influence on the production capacity of lithium ore grinding equipment. The same type of beneficiation ball mill, but the ore processing plant capacity will be different.
2. Choose according to product fineness
Generally speaking, the grid type ball mill is suitable for coarse grinding, and the overflow type ball mill is suitable for fine grinding.
When it is necessary to grind to a uniform coarse-grained product of about 0.208~0.295mm (48~65 mesh), the grid type ball mill is better;
When grinding to a fine product of 0.074~0.104mm (150~200 mesh), an overflow ball mill is suitable;
When it is necessary to carry out two-stage grinding, the first stage uses the grid type, and the second stage uses the overflow type;
When regrinding of coarse concentrate is required, an overflow ball mill should be used.
3. Select according to the processing capacity of the ore beneficiation plant
The amount of ore to be processed per hour in a lithium ore concentrator determines the equipment selection for the entire ore beneficiation plant. The most important thing is to combine other relevant factors to determine the appropriate model.
Suppose you want to invest in a lithium ore processing plant and want to obtain greater profit margins. In that case, it is recommended to purchase equipment from JXSC to create more considerable economic benefits for you. Inform our online customer service of your production needs (lithium ore raw materials, required output, finished product specifications, etc.), and professional technical engineers will recommend suitable lithium ore equipment selection and factory quotations for you.