Bauxite is the main raw material for the production of metal aluminum, which accounts for more than 90% of the world's total bauxite output, and is the main application field of bauxite. Domestic bauxite production still cannot meet the needs of alumina production, resulting in a rapid increase in the proportion of imports from abroad, and a substantial increase in dependence on foreign aluminum resources. Use JXSC mining machinery to process bauxite ore, efficiently recover high-grade bauxite, and maximize resource utilization and economic benefits.
Bauxite is formed from parent rock in a hot and humid climate. Its color is off-white, brown-red and yellowish-brown, and its appearance is similar to clay. It is an important raw material for the production of metal aluminum. It is widely used in national defense, aviation, automobile, electrical appliances, chemical industry, daily necessities and other fields.

Generally, it is a finely dispersed colloidal mixture composed of three minerals of diaspore, boehmite and gibbsite in various proportions. Bauxite often coexists with iron oxides and hydroxides, anatase, kaolinite, chlorite and other clay minerals. Sometimes it also contains calcium, magnesium, sulfur and other minerals. Bauxite ore can be divided into high alkali bauxite, high titanium bauxite and high iron bauxite according to the impurities contained therein.
Bauxite Beneficiation Process
The process of separating bauxite concentrate from bauxite ore is actually a process of removing gangue minerals and harmful impurities, separating high-aluminum minerals and low-aluminum minerals, and obtaining concentrates with high aluminum-silicon ratio.
Bauxite ore can be extracted from ore washing, flotation, magnetic separation, and chemical and physical methods to extract metal aluminum. Among them, flotation is a more commonly used method in bauxite beneficiation process in recent years.
Ore washing is a simple and effective method to increase the aluminum-silicon ratio of bauxite. Generally, the aluminum-silicon ratio of ore can be increased by about 2 times through ore washing, which is more effective for the separation of loose ore. Ore washing is often combined with other sorting methods to form ore washing (trommel screen)-classification-hand selection process.
Flotation separation is a common method in various beneficiation processes. It is mainly used to separate diaspore and kaolinite, and alkaline substances are added to the flotation machine as a medium.
Magnetic separation process mainly uses a magnetic separator to separate iron impurities in aluminum ore. When there are many impurities, iron impurities can be used as the main raw material for other purposes, thereby increasing the reported investment ratio.
Chemical beneficiation methods mainly include roasting desiliconization, which is mainly based on hydrous aluminum band silicate in minerals. As a result, part of the silica can be transformed into tailings that are amorphous and easily dissolved into alkaline silica particles, thereby achieving the purpose of increasing the ratio of aluminum to silicon.
A large amount of tailings are produced during the beneficiation process of bauxite. The stockpiling of tailings can not only bring about environmental pollution, land occupation and other problems. Waste of resources. my country's research on bauxite tailings processing is in its infancy, and its utilization rate is only about 10%.
Processing: The commonly used beneficiation processes for bauxite are ore washing, flotation, magnetic separation, chemical beneficiation, etc., and the tailings can be treated by processes such as tailings wet discharge, dry stacking, and reprocessing.
Comprehensive utilization of bauxite tailings: the main chemical components of bauxite tailings are Al2O3 and SiO2, accounting for about 70% of the total. The main minerals of the tailings are diaspore and kaolinite, in addition to silica, illite and so on. Bauxite tailings can be used in building materials, such as the production of high-alumina cement, double-fast sand cement, building ceramics, non-fired porous bricks, prefabricated light bricks, etc. Bauxite tailings can be used in refractory materials. In addition, bauxite tailings are also used in rubber and plastic fillers.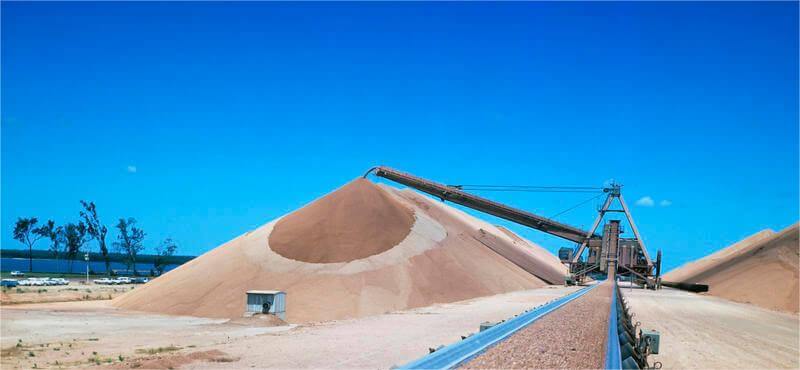 Preparatory stage: Crushing and grinding the ore blocks with a size of several meters into ore particles with a size of several millimeters. In this process, you need to use many crushing equipment, screening equipment and grinding equipment. If the ore contains a lot of soil impurities, you also need to wash and deslim the ore, and use ore washing equipment and desliming equipment.
Beneficiation stage: A process of separating useful ores and associated gangues by utilizing the differences in physical and chemical properties. We usually use sorting equipment, including flotation equipment, gravity separation equipment, magnetic separation equipment, etc.
The bauxite concentrate selected by the sorting operation cannot be directly sold in the concentrator, but dehydrated, stored, and then sold to customers in need, so dehydration and drying equipment are required.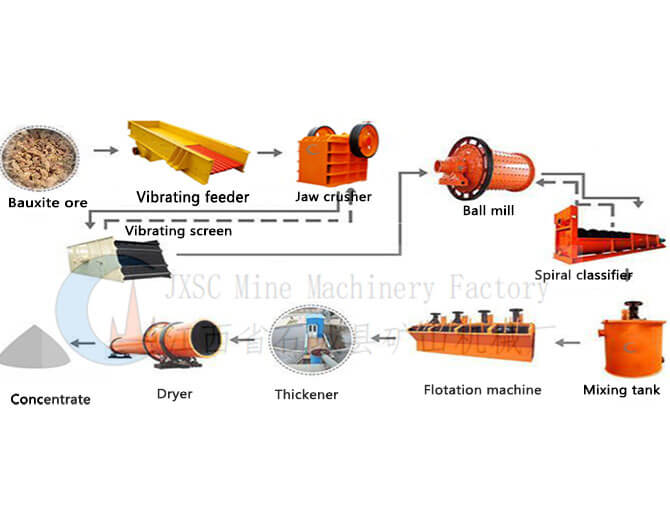 Bauxite flotation process plant
1. The mined bauxite mixture is screened through a single-layer or multi-layer screen surface by a vibrating screen;
2. Preliminary crushing of the screened aluminum ore by the jaw crusher
3. The spiral classifier classifies the ore powder ground by the ball mill again. With the low-speed rotation and continuous stirring of the spiral classifier, most of the light and fine bauxite ore particles are suspended on the surface and overflow from the overflow weir. Coarse and heavy particles are discharged from the bottom of the settling tank and pushed to the top of the chute by the spiral blades.
4. Use a flotation machine to separate the magnetic substances in the washed and graded aluminum ore mixture.
5. The bauxite minerals obtained by flotation contain a large amount of water, and the solid particles in the slurry are gradually settled to the bottom of the thickening tank by a thickener, and are discharged by the scraper. Then use a dryer to dry it to get aluminum fine powder.
The beneficiation process of bauxite is complex, difficult to operate, and many influencing factors. In actual operation, it should be analyzed and considered to realize the economy of bauxite flotation operation, reflect the economic advantages of beneficiation, and rationally utilize bauxite resources. According to your mineral information, professional engineers are responsible for designing and developing beneficiation plant and equipment for bauxite concentrators, and carefully select reasonable solutions for you. Contact us for factory prices !