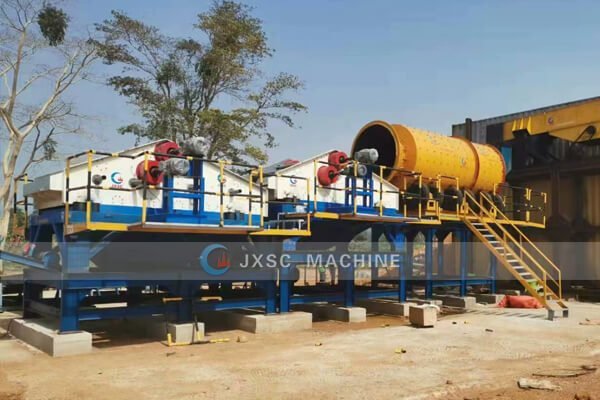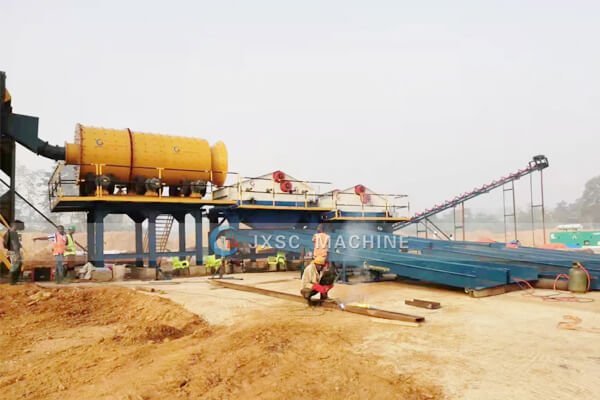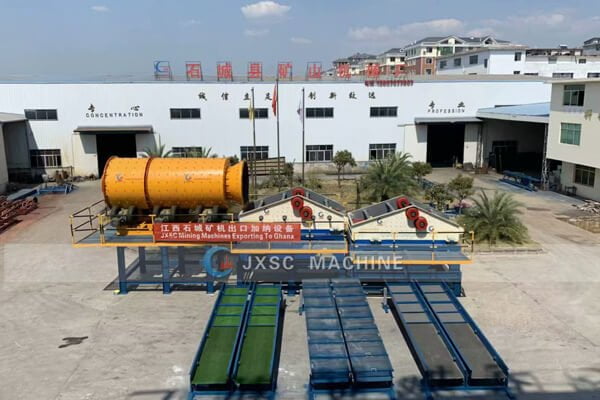 200TPH Alluvial Gold Washing Plant
Raw Material: <200mm alluvial gold
Recycle gold particle size: 0-6mm, 6-12mm
Recovery Ratio: 75-80%
Country: Ghana
Main Equipment: drum scrubber, high frequency vibrating screen, sluice box, gold centrifugal concentrator, shaking table, etc.
This gold mine is located in Accra, Ghana. It can't do the high and low difference plan, because located in the plains.  The ground also can't dig too deep. The raw material with a large amount of sticky soil which not easy to wash and clean. Therefore, we must use high pressure water spray gun to disperse material.
The customer wants to recycle 0-6mm, 6-12mm of gold. And hope the 200tph alluvial gold washing plant process as simple as possible, easy to operate, low energy consumption. According to these, our engineers designed the flowchart as follow.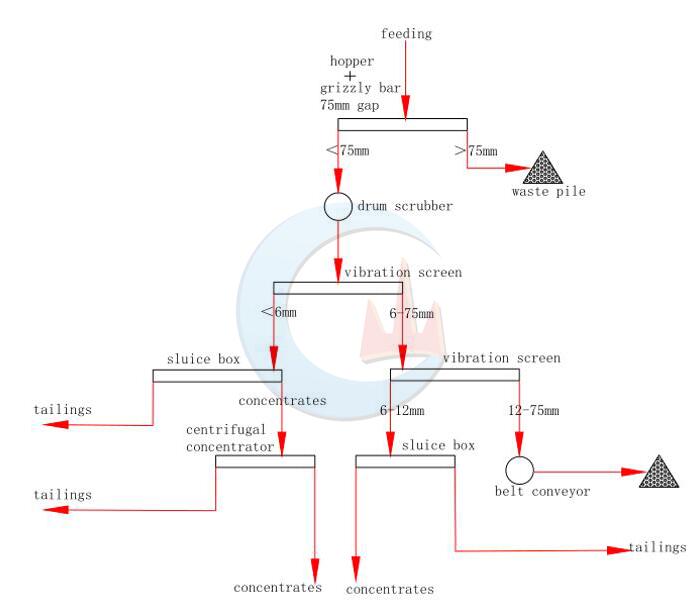 Process Description
1. Loader feed to hopper, high-pressure spray gun spray water to hopper, then feed to vibration feeder, grid screen out + 75 mm, belt conveyor transport + 75 mm waste, 0-75 mm feed trough into the gold washing machine drum scrubber.
2. Drum scrubber without screen, feeding and discharging into high frequency vibrating screen (first 6mm sieves, second 12mm sieves).
3. The first vibrating screen feeds 0-6 mm into 4 rows of sluice box(each row 2 x 6 meters) to recover 0-6 mm gold. The second vibrating screen feeds 6-75 mm, 6-12mm into 2 rows of clay sluice box (2 X 6M) to recover 6-12mm gold, + 12mm waste transported away by belt conveyor. The sluice boxes with cover to workers from stealing gold.
4. All the concentrate washed out of the sluice box goes into the Tiaotai machine. 0-2 mm concentrate is sifted down and then on the gold shaking table. The + 2 mm concentrate on the sifter is manually cleaned out on a regular basis. Jig machine and shaking table installed indoors to prevent workers from stealing gold.
Please fill out the contact form below to get the quotation price and engineer help.
We will response your request within 24 hours.
Notice:
We do not provide jobs, nor do we interested in investment or partnerships.
We provide equipment and mineral processing solution, we don't buy them.

We value your privacy and keep your information safe.
More ways to get in touch with us.