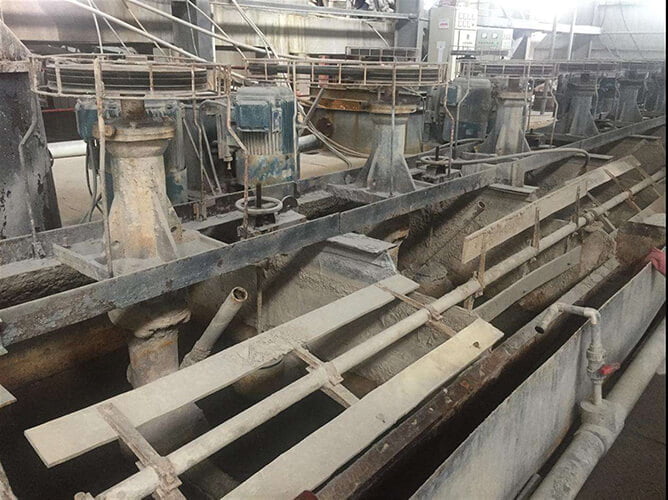 Flotation is nowadays the best method for the recovery of gold from base metal ores and gold-bearing ores like the PGM(The platinum group metals)  ores. also, it's the most cost-effective beneficiation method.
Since JXSC founded 3o+ ago, we have accumulated a lot of rich experience in gold flotation processing. And help many customers engineering, design and finally deploy those gold flotation production lines for them.
Our flotation solutions can easily applicate to small and medium scale flotation plants but not only within the gold-mining industry. 
Our flotation method is a technique widely used for the recovery of gold from gold-containing copper ores, base metal ores, copper-nickel ores, platinum group ores, and many other ores where other processes are not applicable. 
Gold itself is a rare metal and the average grades for low-grade deposits vary between 3 and 6 ppm. Gold occurs predominantly in native form in silicate veins, alluvial and placer deposits or encapsulated in sulfides. The recovery of gold from gold-bearing ores depends largely on the nature of the deposit.
Other common occurrences of gold are alloys with copper, tellurium, antimony, selenium, platinum group metals and silver. In massive sulphide ores, gold may occur in several of the above forms, which affects flotation recovery.
The flotation of gold-bearing ores is classified according to ore type (i.e. gold ore, gold copper ore, gold antimony ores, etc.), because the flotation methods used for the recovery of gold from different ores is vastly different.
Please fill out the contact form below to get the quotation price and engineer help.
We will response your request within 24 hours.
Notice:
We provide equipment and mineral processing solution, we don't buy it.
We value your privacy and keep your infomation safety.
We do not provide jobs, nor do we interested in investment or partnerships.
More ways to get in touch with us.
More Customer Successful Stories