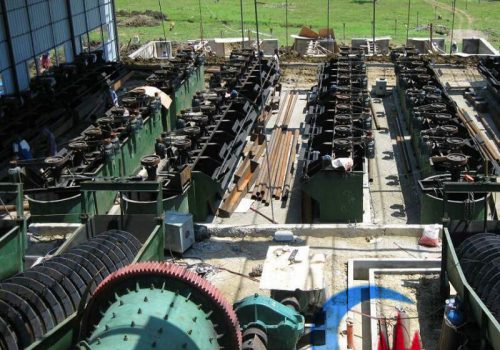 The main component of fluorite is CaF2, which is often used as a source of fluorine in industry. Fluorite ore can be sorted by means of gravity separation and flotation.
The type of fluorite ore, the embedded particle size, and the ore properties are different. According to the actual situation and ore properties, we will customize the fluorite beneficiation process design and equipment.
fluorite ore beneficiation
1.Gravity separation method is mainly used to extract coarse-grained massive metallurgical grade fluorite ore; gravity beneficiation of fluorite ore is mainly completed by jig concentrator, which has large selected particle size and wide selected particle size range. The material sorting effect is remarkable.
2. Flotation separation is mainly used to produce high-quality fluorite concentrate.
The main problem of fluorite flotation is the separation of gangue minerals such as quartz, calcite and granite. According to the different gangue minerals, fluorite ore can be divided into the following four types:
Quartz-fluorite type ore: mainly composed of fluorite (about 80%-90%) and quartz, with only a small amount of calcite, barite and sulfide. The key to the selection is mainly to reduce silicon in concentrates. To separate quartz from fluorite, it is necessary to dissociate the quartz and fluorite monomers by grinding.–(Rw ore crushing-grinding-roughing-rough concentrate regrinding-multiple separation);
Calcite-fluorite type ore: The main minerals are fluorite and calcite (the content is as high as 30%), some of which contain a small amount of quartz, and sometimes quartz-calcite-fluorite type ore can be formed, which is a refractory ore.–(Raw ore crushing – grading – jigging – grinding – roughing – multiple selection);
Sulfide fluorite type ore: mainly flotation method, adding a small amount of sulfide ore inhibitor (such as cyanide) to suppress residual sulfide to ensure the quality of fluorite concentrate, fluorite is the tailings of flotation Treated separately as fluorite ore. (Prepare high-quality fluorite products while comprehensively recycling valuable metals. raw ore crushing – grinding – preferential flotation of sulfide minerals – tailings flotation of fluorite – fluorite rough concentrate has been selected many times.)
Barite-type fluorite ore: The main minerals are barite and fluorite, and the barite content is generally 10%-40%, often accompanied by pyrite, galena, sphalerite and other sulfide minerals.
The separation of fluorite flotation and gravity separation processes is finally determined by comprehensively considering factors such as the actual situation of the dressing plant, investment budget and other factors.
fluorite Processing plant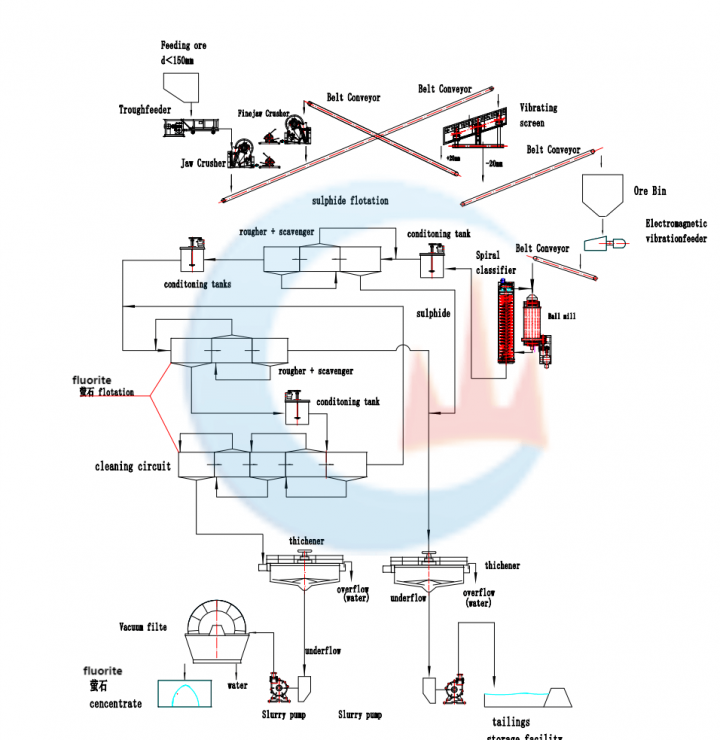 15TPH fluorite flotation processing plant in Pakistan:
Jaw crusher—Vibrating screen—Electromagnetic vibrating feeder—Ball mill—Spiral classifier—Conditioning tank—Flotation machine—Thickener—Slurry pump—Vacuum disk filter
this complete fluorite flotation process and equipment, finished product contains less impurities, and obtains high-quality fluorite concentrate. The craftsmanship is smooth, the steps are compact, and after many trials and practices, it is scientific and reasonable. Due to the different properties of fluorite ore for different users, JXSC can also customize various types of fluorite ore process flow for different needs.
Professional Mineral Beneficiation Equipment, Solutions & Services
Talk with JXSC's mining experts to get more help, free to conslution!
Crushing and screening
Due to the different nature of fluorite mines in different regions, some processing plants use a three-stage one-closed crushing process, and some processing plants use a three-stage open-circuit crushing process. The fluorite ore beneficiation equipment in the crushing and screening stage is shown in the table below.

| | | |
| --- | --- | --- |
| Equipment | Stage | Processing size (mm) |
| Jaw crusher | Coarse crushing | <1250 |
| Standard cone crusher | Medium crushing | <350 |
| Short head cone crusher | Fine crushing | <130 |
| Vibrating screen | Screening | <30 |
Grinding
The two-stage grinding process is usually used in the grinding stage of fluorite mines. When fluorite and other minerals are closely coexisting in fine particles, the first stage grinding usually cannot well separate the monomers of fluorite and associated minerals, so After a period of grinding, coarse grinding of concentrates and re-grinding is a commonly used method in the separation of refractory fluorite ore, which is beneficial to the subsequent stage of separation and improves the selection index.

Gravity separation
Scope of application: suitable for high-grade fluorite nuggets and particle mines with a particle size of 6-20mm.
Technological characteristics: The gravity beneficiation efficiency is remarkable, the equipment structure is simple, and the operation is convenient. The main fluorite mine beneficiation equipment is a jig separator, among which the diaphragm jig is commonly used. Diaphragm jigs produced by JXSC are divided into two types, left-handed machines and right-handed jigs. The upper limit is 6-8mm. It is not only widely used in fluorite ore beneficiation process, but also widely used in the separation of gold, tin, tungsten and other minerals.
Please fill out the contact form below to get the quotation price and engineer help.
We will response your request within 24 hours.
Notice:
We do not provide jobs, nor do we interested in investment or partnerships.
We provide equipment and mineral processing solution, we don't buy and sell mineral ores.

We value your privacy and keep your information safe.