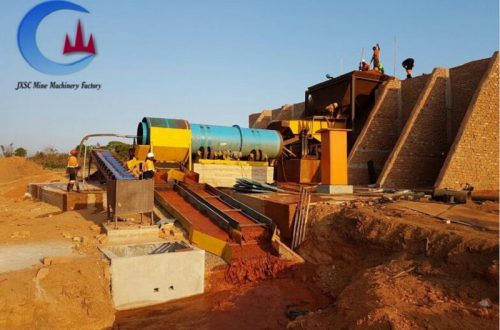 Placer gold, also known as alluvial gold, is a kind of gold that is produced at the bottom of rivers or low-lying areas, mixed with stone sand and can be washed out.
Application: The placer gold mining process is mainly used in seaside placer, riverside placer or alluvial gold processing plants.
Placer gold mining process
The principle of placer/alluvial gold recovery process is to maximize the recovery rate of gold and the associated heavy minerals from gangues firstly, and then separate gold from the associated heavy minerals by joint mining solutions such as gravity separation, flotation, amalgamation, magnetic separation and electrostatic separation.
Ore washing operation is an important process before the placer gold separating operation. Its main purpose is to separate the gravel, sand and granular soil, and wash the fine mud adhering to the gravel and the gold ore mixed in it.
Screening operation main purpose is to screen the placer gold ore after washing, and to screen out large pieces of gravel without gold, so as to improve the gold recovery efficiency.
Gravity separation process is due to the large specific gravity and coarse particle size of placer gold, which is generally 0.074~2mm, and the second reason is that the gravity separation process is economical and simple.
Concentrate operation, gravity separation process, magnetic separation process, flotation process, electric separation process or combined process can be used to separate gold and various heavy minerals from each other, so as to further improve the grade of gold.
Since gold is in a free state in placer gold, and the specific gravity difference between gold and sand is very obvious, placer/alluvial gold gravity separation method is an ideal method to extract gold from placer ore. The task of our placer gold processing production line is to separate gold from a large amount of mixed gravel to ensure a higher metal recovery rate and better economic benefits.
This setup is a 150tph complete alluvial gold processing plant, the raw material is 0-150mm alluvial gold ore with much clay, the gold nugget size is around 0-10mm, and it with some magnetic ores.
Vibrating feeder with gap 100mm grizzly bar
Drum magnetic separator
Centrifugal concentrator
Shaking table
Gold sluice box
Belt conveyor
Gold melting furnace
The truck unloads the ore into the hopper, and the stone enters the vibrating feeder from the lower part of the hopper; the +100mm scrap will be separated by the vibrating feeder grizzly bar and transferred by a conveyor to a stockpile.
The vibrating feeder feeds the -100mm ores evenly to the trommel scrubber to wash. They are connected by a trough.
The trommel scrubber is equipped with 2 layer screens, the mesh is 2mm &10mm. 0-2mm material will flow to drum magnetic separator to remove the magnetic ores first after washing, and then stored in one pool. The 2-10mm material will flow to a sluice box, so the 2-10mm gold nuggets can be caught by the sluice box. And +10 materials will be sent to a stockpile
The material 0-2mm slurry in the pool will be pumped by a slurry pump to a concentrator. The gold concentrate of the centrifugal concentrator will flow to one shaking table to further concentrate. And the tails of the concentrator will flow to a sluice box to concentrate.
All gold concentrates can be melted in a furnace to get gold nuggets.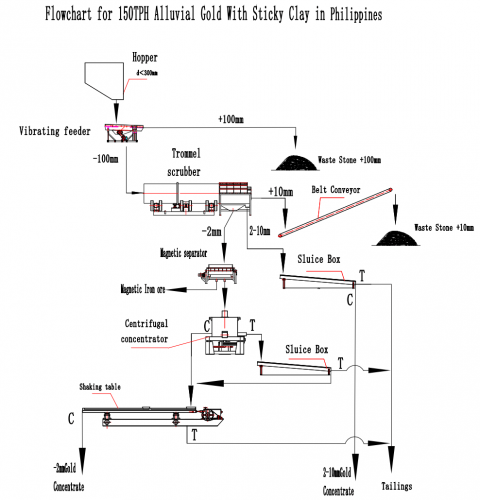 The process is simple, and the alluvial gold processing equipment is low in cost and easy to operate. In addition, the process has the characteristics of environmental protection and can directly discharge tailings, which greatly reduces the civil construction investment of the entire processing plant.
Placer gold mining plant for sale
Our JXSC Mine Machinery has rich experience for design, control, and optimization of such a complex process for nearly 3 decades, with our solution, high recovery, high profit and low cyanide concentrations can be achieved simultaneously.
We provide full gold mining equipment, including fixed and portable gold washing machine, suitable for small/ medium-scale gold mining & processing plant. With low investment cost and high recovery efficiency.
Placer/alluvial gold mining process and equipment need to be determined in combination with factors such as the nature of the ore, the situation of the gold beneficiation plant, and the investment budget.
Please fill out the contact form below to get the quotation price and engineer help.
We will response your request within 24 hours.
Notice:
We do not provide jobs, nor do we interested in investment or partnerships.
We provide equipment and mineral processing solution, we don't buy and sell mineral ores.

We value your privacy and keep your information safe.