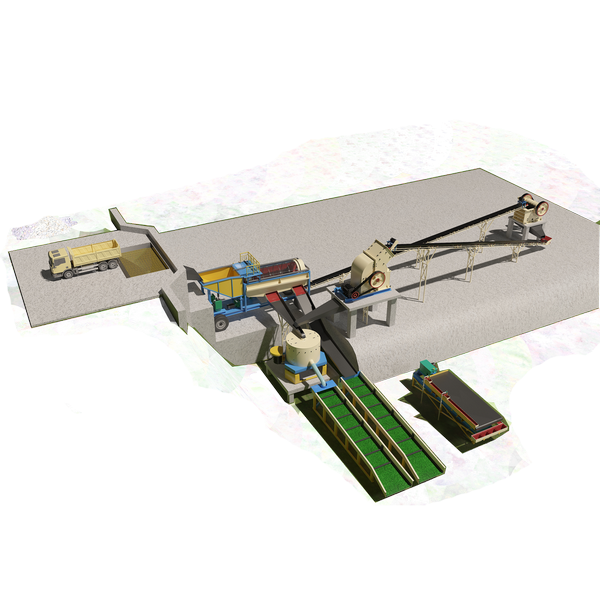 The task of our placer gold beneficiation solution is to separate gold from a large amount of mixed gravel to ensure a higher metal recovery rate and better economic benefits. 
Unlike hardrock gold mining, which extracts veins of precious minerals from solid rock, placer gold mining is the practice of separating heavily eroded gold minerals from sand or gravel. 
Gold in placer mines is usually mixed with a large amount of ore. The task of our placer gold beneficiation processing line is to separate gold from a large amount of mixed gravel to ensure a higher metal recovery rate and better economic benefits. 
JXSC Mining Machinery committed to providing customizable gold mining solutions, with over 3 decades of experience, we help our customers around the world improve their operational efficiency, reduce risks, and increase profitability.
Placer mining is the technique by which gold that has accumulated in a placer deposit is extracted. And in the most situation, the placer deposits are composed of relatively loose material that makes tunnelling really difficult, so most means of extracting it involve the use of water or dredging. There are three major ways to get gold granule from gravel nowdays.
Gold panning is the most practical and quickest technique for searching for gold by manual, but is not commercially viable for extracting gold from large deposits, except where labor costs are very low or gold traces are substantial.
Using a sluice box to extract gold from placer deposits has long been a very common practice in prospecting and small-scale mining. A sluice box is essentially a man made channel with riffles set in the bottom.
Larger commercial placer mining operations employ screening plants, or trommels, to remove the larger alluvial materials such as boulders and gravel, before concentrating the remainder in a sluice box or jig plant.
The gold dredging is mostly done by small-scale miners using suction gold dredges. These are small machines that float on the water and are usually operated by one or two people. A gold dredge consists of a sluice box supported by pontoons, attached to a suction hose which is controlled by a miner working beneath the water.
We JXSC Mining Machinery has rich experience for design, control, and optimization of such a complex process for nearly 2 decades, with our solution, high recovery, high profit, and low cyanide concentrations can be achieved simultaneously.
Professional Mineral Beneficiation Equipment, Solutions & Services
Talk with JXSC's mining experts to get more help, free to conslution!
Equipment Lists For Placer Gold Mining
The gold dust particles are mostly granular or scale-like, and the particle size is usually 0.5 to 2 mm, but there are also gold particles weighing a few kilograms and more powdery to the naked eye. The fineness of the placer gold is usually 850-900, and the average specific gravity is 17.5-18.0.
Gold dust is divided according to particle size: 
Large gold nuggets, which size are greater than 5 mm;

Thick gold nuggets, size from 1.65 mm ~ 5 mm;

Medium grain gold-0.83 ~ 1.65 mm;

Fine-grain gold-0.42 ~ 0.83 mm;

Fine gold-0.15~0.42mm;
Floating gold-less than 0.15 mm.
The main method of washing and gold extraction of the placer gold separation process is the re-selection method, and the sand gold beneficiation technology is mainly selected by the gravity method. This is because the gravity separation method is simpler and more economical than other methods. At the same time, because the placer gold has a large specific gravity and coarse particles, it is easy to sort by the gravity separation method. The amalgamation method, flotation method and other methods are mostly used to separate heavy concentrates. The gravity separation equipment mostly adopts various chute, jig and shaker, screw and centrifugal concentrators.
Because gold is in a free state in placer gold ore, and the difference in specific gravity between gold and sandstone is also very obvious, it is an ideal and efficient method to extract gold from placer by gravity separation. In the placer gold beneficiation process, jigs are generally As a rough selection or scanning device, the shaker can only be used as a selection device.
The general process of placer gold beneficiation is screening-jigging-shaker-mercury mixing. There are also local low-grade placer gold beneficiation using chute as a rough separation equipment, jig as a sweeping equipment, amalgamation tube or shaker as a selection equipment. In fact, the beneficiation process and the configuration of the beneficiation equipment are determined according to the specific properties and characteristics of the ore. Not all the placer gold mines use the same beneficiation process and beneficiation equipment to obtain a good washing effect Yes, it is recommended that you choose a professional manufacturer and let a professional engineer equip you with the beneficiation process and equipment.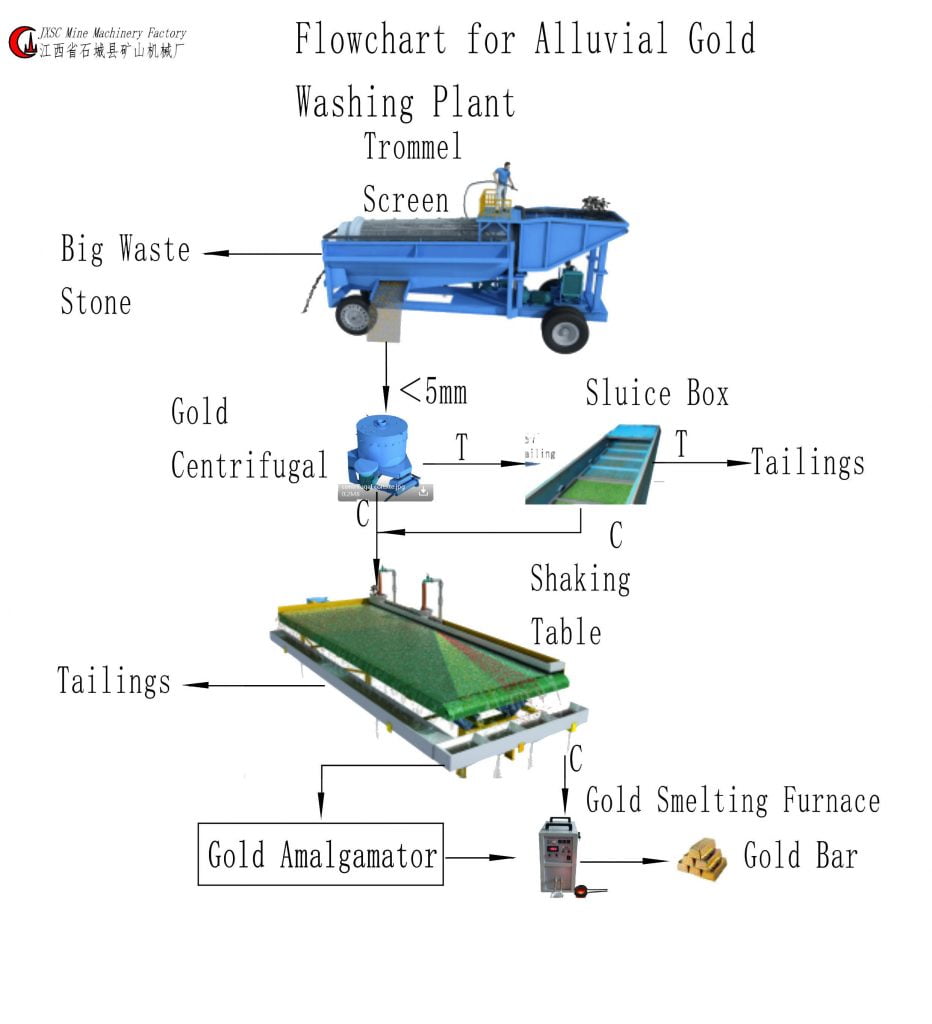 Generally speaking, the placer gold beneficiation has the following characteristics:
The gold content of placer gold is very low. generally, it's 0.2~0.3 g/m

3

, while the content of heavy minerals is usually 1~3 kg/m

3

.

The ratio of the large particle size of gangue to the small particle size of gold dust is several thousand times.

The yield of concentrate is very low, usually not more than 0.01% ~ 0.1%.

The beneficiation ratio is extremely high (from thousand times to nearly ten thousand times).

The coarse concentrate can be obtained by several times to obtain gold dust and qualified heavy sand concentrate.
Please fill out the contact form below to get the quotation price and engineer help.
We will response your request within 24 hours.
Notice:
We do not provide jobs, nor do we interested in investment or partnerships.
We provide equipment and mineral processing solution, we don't buy them.

We value your privacy and keep your information safe.
More ways to get in touch with us.